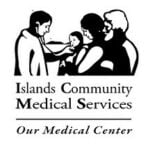 Website Islands Community Medical Services, Inc.
Islands Community Medical Services, Inc.
Practice medicine the way you always imagined; seeing to the needs of your patients, friends and neighbors from the age of a few days old to over 100 years old. Are you comfortable with Pediatrics, Family Medicine, Urgent and Emergent Care in a somewhat remote setting? We would like to talk to you.
We offer you a truly unique experience – living on a scenic island off the coast of Maine and practicing the full spectrum of family medicine with the support of strong leadership and experienced clinicians.
We balance the demands of practicing medicine on the island with an exceptional clinician rotation schedule that affords you time to explore all that Vinalhaven and Maine have to offer. Outdoor enthusiasts enjoy local hiking, fishing, swimming, biking, boating, sailing, snowshoeing and kayaking.  A ferry ride or short flight to the mainland opens the door to endless experiences.
Come enjoy Maine life in a close-knit community and be a part of our team at Islands Community Medical Services. We are a well-established FQHC, located in beautiful Penobscot Bay, 12 miles off the coast of Rockland. Vinalhaven has a year-round population of 1,200 residents, which grows to more than 4,000 in the summer. The island has a K-12 school, renovated library, restaurants and stores, working waterfront, miles of public access to the shore and a vibrant artistic community.
We are a mission-driven and community-focused health center and are seeking like-minded clinicians to live and practice on our island.
For more information, contact Cameron Garrett, Executive Director at Islands Community Medical Services, Inc. Phone: 207-863-4109.  Email your resume to: cgarrett@icmsvh.org