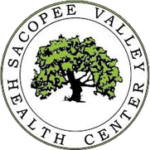 Website Sacopee Valley Health Center
Affordable, Community-Based Healthcare Center
The Sacopee Valley Health Center prides itself on providing the best health care for our community. As we continue to grow, there is a need for full-time Primary Care Practioners, including an MD or DO to join our provider team. This position is a full-time position with a competitive salary and benefits package, including health, dental, disability, life insurance, 401k retirement plan, and generous paid time off. (We will also consider part-time and per diem candidates).
We will also consider part-time or per diem candidates.
We offer an excellent work-lifestyle balance with set hours and no weekends or evenings, a great staff and community spirit.
We are a National Health Service Corp site. Clinical staff are eligible to apply for loan forgiveness. Recent graduates are welcome to apply.
Sacopee Valley Health Center is a multi-service, progressive, rural federally qualified community health center located in a medically under-served area. We employ 80 staff members to deliver care to thousands of patients annually. We utilize a team-based approach in providing the best medical care possible for our community. In addition to primary care and our walk-in clinic, the center also offers dental care, family planning, behavioral health counseling, psychiatry, podiatry, radiology, and lab services.
Sacopee Valley Health Center is an Equal Opportunity Provider & Employer Organization.
Job Type: Full-Time, Part-Time, Per Diem
Salary: Full-Time: $200,000- $240,000 annually
Benefits:
401(k)
401(k) matching
Dental insurance
Employee assistance program
Employee discount
Health insurance
Life insurance
Paid time off
Vision insurance
Schedule:
Day shift
No weekends
Ability to commute/relocate:
Porter, ME 04068: Reliably commute or planning to relocate before starting work (Required)
Experience:
Clinical: 1 year (Required)
Work Location: In person