LEADERSHIP
PROGRAM STAFF
ADMINISTRATIVE STAFF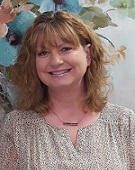 Greta Cummings
Quality Improvement Program Coordinator
gcummings@mepca.org
Greta is responsible for the development, implementation and maintenance of MPCA's system to track grant opportunities and grant reporting requirements. She provides administrative support to the Senior Director of Programs & Innovation, Director of Quality Improvement & Innovation and the Quality Improvement Team, as well as the Director of Resource & Membership Development. Greta's primary role is supporting the QI/HCCN Programs and assisting with Grants Management.
Lisa Frost
Staff Accountant
lfrost@mepca.org
Lisa performs various accounting and human resources functions on behalf of the organization, and she assists the Director of Finance and Operations with other business, financial and administrative affairs. Her previous work experience includes bookkeeping, municipal government administration, and human resources. She earned her bachelor's degree in business administration from the University of Southern Maine. Lisa's primary role is performing finance office & HR functions.
Andrea Watkins
Training and Communications Specialist
awatkins@mepca.org
Andrea oversees the office IT and phone systems, and is the lead on all logistics regarding MPCA's face-2-face and online events. She maintains the event registration platforms, and provides administrative support for Training & Technical Assistance work and Training Events. Andrea joined MPCA in 2005, shortly before she graduated from Kennebec Valley Community College with an Associate's Degree in Applied Science (AAS), Computer Applications Technology. Andrea's primary roles are Supporting Training Events, Maintaining Event Registration Platforms, and Supporting Training & Technical Assistance Work.